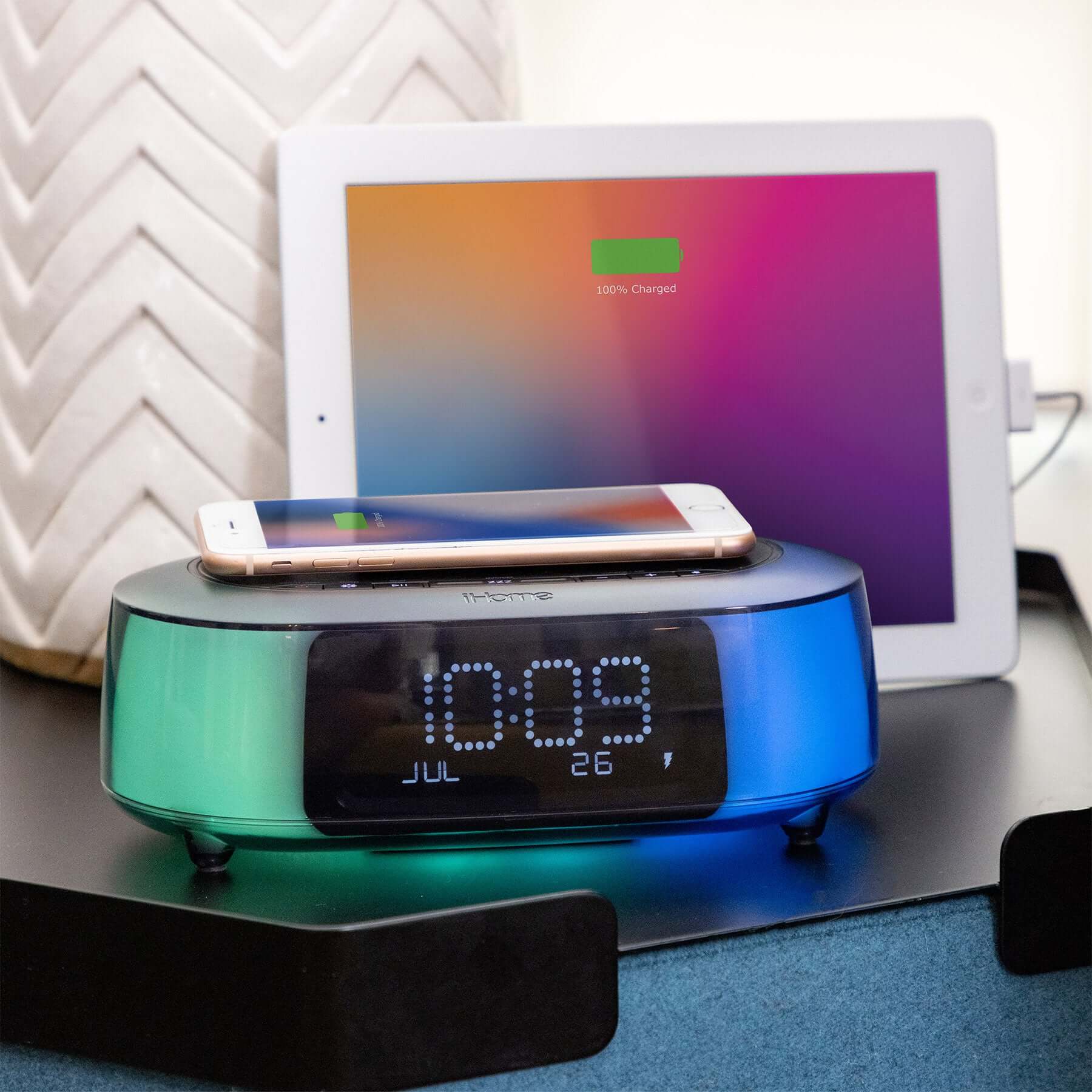 Wireless Charging Station with Color Changing Bluetooth Alarm Clock and USB Charging (iBTW281v2)
---
Wireless charging station for iPhone, Samsung, and Android devices
Digital alarm clock with dual alarms to fit your lifestyle
Create your own custom sound and/or light alarm schedules
Choose from 8 color changing light modes
Wirelessly stream audio via Bluetooth
Echo-cancelling and speakerphone functionality
High contrast display with adjustable brightness
USB charging port (cable not included)
Operates on 100V-240V universal voltage adapter (included)
Includes battery backup system
This wireless charging station and digital alarm clock combo has everything you need to rest and recharge. The Qi-certified charging pad conveniently charges compatible iPhone, Android, and Samsung smartphones, plus, you can power up your other devices simultaneously using the built-in USB charging port.
Customize your sleep routine with a personalized combination of sound and/or light alarms that gradually wake you up. Choose from 8 color-changing light modes, preset tones, or Bluetooth audio. Dual alarms can be set independently to suit your needs, whether you need to wake up on weekdays only, weekends only, or 7 days a week.
Enjoy high quality audio when you connect any device to the built-in Bluetooth speaker, which employs Reson8 Technology to deliver clear, rich sound. Answer and end calls with ease when your smartphone is connected, too.
If you are shopping for a wireless charging station for your bedroom, the iHome iBTW281v2 provides a convenient and stylish solution to complement any bedroom décor.